Columbia County Weed Board is open to serve you, our doors will remain closed to the public as needed and communication will be conducted by phone, email, and texts.
The Columbia County Weed Board, located in the County Extension Office, provides information and resources concerning weeds within Columbia County. Regular board meetings are the third Tuesday of the month. Regular board meetings are held at 137 East Main Street, Dayton WA  99328. Board meetings are not held during the months of July and August.
Weed Board Coordinator, Naedene Shearer
Board Members include:
Josh Bowen, Chairman
Clayton McKinley, Vice Chairman
Bill Warren, Secretary
Rick Turner, Director
Matt Talbott, Director
---
WSU PESTICIDE PRE-LICENSE REVIEW WEBINARS
WSU is offering two types of Pesticide Pre-License Review Webinars
Webinars for Private Applicators
• Select one of these dates: June 29, July 27, or August 31
• To take exams, you need to register with WSDA for their regular session or with your County Extension (if they are open for appointments).
Webinars for All Other License Types
• Webinar topic options: 1) Laws & Safety or Dealer Manager exams, 2) Weed Management exams, and 3) Insect & Plant Disease exams.
• Webinar dates are July 7, 8 or August 11, 12
• These webinar offerings include a testing session July 9 or August 13 in Olympia, Spokane, and Yakima.
• Before registering for the webinar: write down the license type and the exams you need. These questions are part of the webinar registration. The website above has a link to an exam selection checklist.
o License types: Private Applicator, Public Operator, Commercial Applicator, Commercial Operator, Private-Commercial Applicator, Dealer Manager
o Exam examples: Private Applicator, Laws & Safety, Agriculture Weed, Right of Way Weed, Turf & Ornamental Weed, Agricultural Insect & Disease, Ornamental Insect & Disease
For more information and to register, visit our webinar website:
https://pep.wsu.edu/pre-license-review-webinars/
Make sure you review the study materials before the webinar.
Poison Hemlock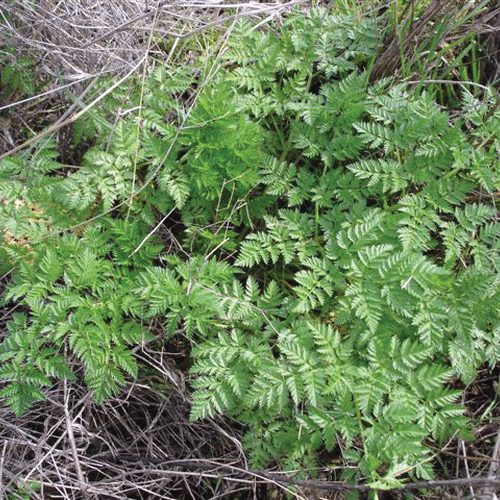 Poison hemlock can be deadly toxic to both people and animals. This toxic, noxious weed is thick around Columbia County and is still young and the leaves are at a basal rosette stage which is the best time to treat poison hemlock.
Poison hemlock is an invasive species that rapidly colonizes streambanks, vacant lots, roadsides, pastures, and meadows, especially where the soil is moist, out competing native plants and desirable species. It is a biennial plant, which means that it typically lives for two years. The first year it forms a basal rosette of leaves. The second year, it develops flowering stems and produces about a thousand seeds per plant.
Small patches of poison hemlock can be carefully dug up, making sure to remove the taproot. Always wear protective clothing and gloves to prevent accidental exposure to the plant's toxic juices. Do not cut or mow the plants as they will only resprout. Dispose of plants in the trash. Toxins will remain potent in dried plant material. Never put pulled plants in the compost or leave them where livestock might eat them. There are a number of herbicides available for controlling poison hemlock in larger infestations. Always read and follow the label instructions before applying any herbicide product.
Plant grasses and other desirable vegetation to provide competition and help prevent further weed establishment at the site.
For additional information, contact the Columbia County Noxious Weed Board.
Information and photo:  WA State Noxious Weed Control Board http://www.nwcb.wa.gov
Mediterranean Sage
Mediterranean sage is a designated as a Class A weed by the Washington State Noxious Weed Control Board. It is an aggressive species that is not palatable and out-competes desirable forage plants in dry pastures and range-lands. Mediterranean sage reproduces by seed and acts like a tumbleweed to disperse its seeds.
The Columbia County Weed Board offers a cost share program for the control of Mediterranean sage in Columbia County.
Noxious Weed Disposal
When controlling weeds, proper disposal is very important. Depending on the plant species, growth stage, and quantity, disposal methods can vary.
In general, if plants are flowering, cut and bag flowers when possible to prevent seed development and dispersal.  Seal bags and put them in the trash.  If plants are NOT flowering and do not spread vegetatively, the plants may be able to be pulled up by the roots and left on the ground to dry out.
Check out this publication for all the specifics about how to dispose of noxious weeds.
https://www.nwcb.wa.gov/pdfs/Noxious_weed_disposal_2012-1.pdf
Not sure what kind of plant you have?  Call or stop by the office to have the weed identified before you begin to control it.  Identifying the weed will insure that you are disposing of the weed correctly.
2020 Meeting Dates
January 21, 2020-12:00 p.m.
February 18, 2020–12:00 p.m.
March 17, 2020–7:00 p.m.
April 21, 2020–cancelled.
May 19, 2020–7:00 p.m.
June 16, 2020–7:00 p.m
July–No meeting
August–No meeting
September 15, 2020–7:00 p.m.
October 20, 2020–7:00 p.m.
November 17, 2020–12:00 p.m.
December 15, 2020–12:00 p.m.
Cost sharing for Class "B" Weeds
The Weed Board offers cost sharing for two other Class B weeds other than Yellow Starthistle. Those weeds are Japanese/Bohemian Knotweed and Leafy Spurge.
The Weed Board will make the final determination as to the amount of chemical reimbursement and may issue up to the following:
100% of herbicide cost the first treatment year.
75% of herbicide cost where treatment is needed the second season.
In year 3 and following years, herbicide cost share will be evaluated on a case by case basis.
Owners/operator is responsible for 100% of application costs.