Welcome
The purpose of this page is to share resources and contact information to help raise awareness about the effects of invasive species on cultural resources.
How are invasive species affecting cultural resources?
Phytophthora ramorum (pronounced fy-toff-thor-uh) is a microscopic 'water mold' that can cause disease in many plant species, including red huckleberry. People are often the source of spread between sites so it is important to take care and clean equipment before visiting ancestral berry patches.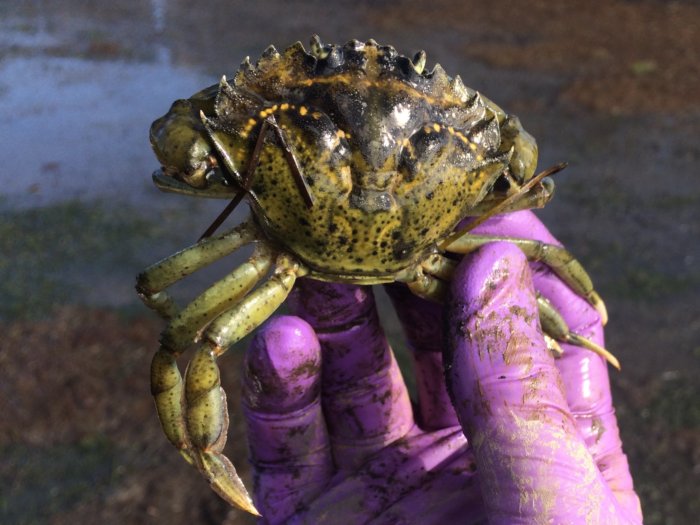 The spread of European green crab has affected life and resources in the tidelands throughout the northwest coast. Populations were recently detected in the northern Puget Sound, but many Puget Sound areas remain unaffected. More awareness, monitoring and management is needed to reduce the impacts and protect other areas and resources of the Puget Sound.
Elk hoof disease is an emerging issue in the Northwest. Infection causes abnormal hoof development and lameness in elk herds. Because no treatments are known to be effective, preventing its spread to other herds is a critical approach for reducing the impact. Help reduce the impact by reporting sightings of healthy and unhealthy elk to WDFW.
Read more about how cultural resources are affected by invasive species.
Fully Funded Outreach Materials
Together we can raise awareness and reduce the impacts of invasive species. WSU has support to provide educational materials to Washington Tribes thanks to a grant from USDA APHIS PPA 7721. Learn more about the materials available for your communities.
Events
Have questions about invasive species or interested in receiving outreach materials? Feel free to join one of our office hours. We will be there to listen, answer questions or share resources. Zoom Meeting Details: Join from PC, Mac, Linux, iOS, or Android: https://wsu.zoom.us/j/96330284964?pwd=N25HOFJYaVVTL1Yyd0oyT3lWTHNpUT09 Meeting ID: 963 3028 4964 Passcode: 207465
Have questions about invasive species or interested in receiving outreach materials? Feel free to join one of our office hours. We will be there to listen, answer questions or share […]
News
---
Sign-up below to receive these updates in your email